Deliciously rich and packed with flavour, this quiche is an excellent option for a light lunch or dinner if served with a lovely green salad alongside. I couldn't have packed more rich cheese into it if I wanted to, and I know you will love it! Top tip: Don't leave the asparagus whole like I did in the pic, cut them into smaller batons to make sure every slice gets a bit of the good stuff. Failing to do so will make slicing the quiche a little tricky. I would also advise that you allow the quiche to cool completely before slicing and serving. Its delicious warm but like any quiche, it cuts better when cooled (you can always heat the slices afterwards if you like your quiche warm). If you choose to make a 'crustless' quiche, leave out the entire almond flour base and simply cook the rest of the recipe in a greased, lined tart dish as the recipe indicates. Out of interest, I calculated those macros if you chose to do that and each slice of a crustless version comes in at 1.3g carbs; 24g fat; 8.8g protein. However, the base adds a lovely texture so its up to you. Now you know..

– – – – – – PER SERVING – – – – – –
Carbs 3.5g | Fat 56g | Protein 18g
– – – – – – – – – – – – – – – – – – – – –

Fats of Life® is a blog that I run as a hobby, but did you know that I am also the author of two cookbooks? My first book Keto Kitchen (published by Kyle Books in 2020) is available worldwide (and has remained one of the best-selling low carb cookbooks in the UK). My second book Lazy Keto Kitchen (coming mid-year, 2021) is currently available to pre-order.
"I want you to achieve the best outcome with all the recipes on Fats of Life. If you haven't already done so, please read the RECIPE SUCCESS page which is packed with handy tips and advice. Happy Cooking, everyone!" – Monya


Asparagus & Four-Cheese Quiche (Keto)
Deliciously rich and packed with flavour, this quiche is an excellent option for a light lunch or dinner served with a green salad. Serve warm or chilled.
Per serving
Calories:
585
kcal
|
Carbohydrates:
3.5
g
|
Protein:
18
g
|
Fat:
56
g
Ingredients
For the filling
4

eggs

1

tsp

mustard powder

1

tsp

baking powder

salt

250

g

(

8.8

oz

)

double cream

40

g

(

1.4

oz

)

Gruyere cheese

,

finely grated

40

g

(

1.4

oz

)

mild, full-fat Gouda cheese

,

finely grated

40

g

(

1.4

oz

)

extra-strong, full-fat Cheddar cheese

,

finely grated

200

g

(

7.1

oz

)

fine asparagus
Instructions
Preheat the oven to 180°C (fan oven). This is 200°C for conventional ovens (or 400°F / gas mark 6).

Combine the almond flour, extra-fine almond flour, salt and finely grated Parmesan cheese in a bowl. Pour in the melted butter and mix well to combine.

The mixture will resemble course breadcrumbs. Tip the mixture into a large well-greased pie dish (I always line the base with parchment too) and use a spatula to spread it out as evenly as you can, moving a lot of the mixture to the sides.

Use clean hands to compress the mixture down into an even layer at the bottom, as well as up the sides of the dish until you have a smooth, compact later all over.

Bake in the oven for 10 minutes, then remove and set aside. Do not turn the oven off.

In the meantime, whisk the eggs very well in a large bowl, adding in the mustard powder, baking powder and a little salt. Stir in the grated Gruyere, Gouda and Cheddar cheese. Set aside.

Snap off the hard, woody ends of the asparagus and (unlike what I have done in the pictures) I advise you cut them into smaller pieces - it makes for easier slicing later.

Place the asparagus into the tart case and pour over the creamy egg cheese mixture. Try and ensure that the cheese is evenly distributed.

Place the tart tin onto a baking tray (in case any mixture bubbles over) and bake in the oven for 15 minutes.

After 15 minutes, rotate the tray (my own personal habit, its not necessary) and reduce the oven to 140°C (fan oven). This is 160°C for conventional ovens (or 325°F / gas mark 3). Cook on this lower heat for another 18-20 minutes. (The reduced temperature will ensure the mixture cooks through sufficiently without burning the eggs or crust.)

The mixture should not wobble in the centre and be fairly firm. Remove and allow to cool for at least an hour before slicing and serving.

A new-and-improved version of this delicious recipe features in my cookbook LAZY KETO KITCHEN.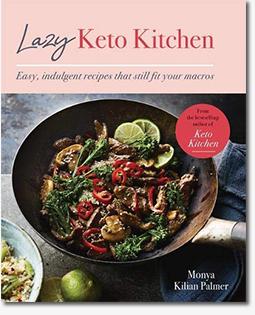 For those on INSTAGRAM, tag me @mkilianpalmer so we can all see your lovely creations! Keep scrolling: you can PIN this recipe for later, see detailed macros and browse other recipes in this category.
You can also drop me a comment if you have any questions about this recipe. I will do my best to reply as quickly as possible. Monya xxx


Summary
Recipe
Asparagus & Four-Cheese Quiche (Keto)
Author
Published On
Total Time
Average Rating
Based on 5 Review(s)
FOR READERS OUTSIDE THE UK
: Missing anything you might need? The links on this website are directed at the UK market and show the products I use here. However, you can get everything you might need from Amazon.
---

---
Nutritional Information per slice
Calories                         585Kcal / 2448kJ
Fat                                 56g
Carbohydrates              3.5g
Protein                          18g
Allergens
Almonds
Mustard
Eggs
Milk
Sulphites
---
---

Disclaimer: The nutritional analysis, macro and allergen breakdown of the recipes on this site have been manually and carefully calculated using the cloud-based software NUTRITICS®. NUTRITICS® is fully approved by the relevant Trading Standards organizations and is EU and FDA-compliant. The macro calculations are provided as a courtesy to you based on the author's weighing of ingredients when creating the dishes. If Erythritol (a sugar polyol) has been used in any of the recipes, it has already been manually excluded from the final carbohydrate count. The author is a chef - not a medical professional - and this website has been designed to provide you with recipe ideas to suit the low carb lifestyle you have discussed with your GP.

Disclosure: Like many blogs, Fats of Life is part of the Affiliates Program on Amazon. The links to the products recommended here are affiliate links, meaning - at no additional cost to you - the author will earn a small commission if you click through and make a purchase.
---