This is why you must try my Cauliflower Rice recipe! I added the cooked cauli-rice to the chicken roasting dish halfway through and it absorbs all that glorious smoked paprika flavour. This is chicken & chorizo bake is a great family dinner that can be enjoyed with a fresh side salad. This chicken and chorizo bake uses the Fats of Life Cauliflower Rice recipe, which you will notice only serves 4. You should therefore make 1 and 1/2 times that cauli-rice recipe to yield enough for 6 people (and this is also how the macros were calculated.)

– – – – – – PER SERVING – – – – – –
Carbs 5.7g | Fat 46g | Protein 54g
– – – – – – – – – – – – – – – – – – – – –

Fats of Life® is a blog that I run as a hobby, but did you know that I am also the author of two cookbooks? My first book Keto Kitchen (published by Kyle Books in 2020) is available worldwide (and has remained one of the best-selling low carb cookbooks in the UK). My second book Lazy Keto Kitchen (coming mid-year, 2021) is currently available to pre-order.
"I want you to achieve the best outcome with all the recipes on Fats of Life. If you haven't already done so, please read the RECIPE SUCCESS page which is packed with handy tips and advice. Happy Cooking, everyone!" – Monya


Smoked Paprika Chicken & Chorizo Bake (Low-carb)
One-pot dish of smoky chicken paprika and sliced chorizo, this chicken and chorizo bake uses my Cauliflower Rice to absorb all those lovely juices.
Per serving
Calories:
653
kcal
|
Carbohydrates:
5.7
g
|
Protein:
54
g
|
Fat:
46
g
Ingredients
1.5

x

cooked Cauliflower Rice,

Fats of Life recipe

6

large

chicken thighs

,

on the bone, skin-on

salt and freshly ground black pepper

2

TB

lard

1/2

TB

smoked paprika

85

g

(

3

oz

)

chorizo

,

sliced

chopped parsley

,

to garnish
Instructions
Assuming the Cauliflower Rice has been cooked and ready, continue with the recipe:

Preheat the oven to 180°C (fan oven). This is 200°C for conventional ovens (or 400°F / gas mark 6).

Season the chicken thighs with salt and freshly ground black pepper. Sprinkle the smoked paprika over the chicken thighs and use clean hands to massage the mixture into the thighs.

Heat the lard in a large, non-stick pan and fry three of the chicken pieces skin-side DOWN until the skin is golden and crispy. Turn each piece over and cook on the underside for only a minute. Remove and place skin-side UP into a large casserole dish or deep baking tray. (Use a dish larger than what you think you will need, as you will be adding plenty of cauliflower later.)

Repeat the process with the remaining chicken thighs. (We work in batches to avoid over-crowding the pan.)

Place the roasting dish into the oven for 20 minutes.

After 20 minutes, remove the chicken pieces from the dish using tongs and set aside briefly. Add the chorizo and the cooked Cauliflower Rice into the dish and mix well in all the rendered fat and juices. If you feel it may need a little more oil, drizzle some over and mix in.

Return the chicken pieces to the dish, nestling them in the cauliflower mixture.

Return to the oven for an additional 10-15 minutes until the chicken has sufficiently cooked through. A meat thermometer probe is useful here, remove from the oven when the internal temperature reads 72°C / 163°F in the thickest part of the chicken.

Season with pink Himalayan salt and garnish with chopped parsley. Serve with a side salad.


This recipes uses the Fats of Life Cauliflower Rice recipe, which you will notice only serves 4. You should therefore make 1.5 x the cauli-recipe recipe to yield enough for 6 people - as this is how the macros were calculated.

A new-and-improved version of this delicious recipe features in my cookbook LAZY KETO KITCHEN.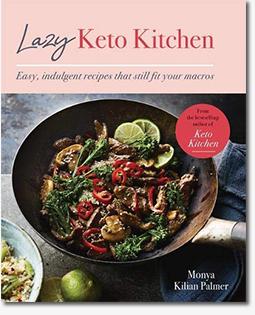 For those on INSTAGRAM, tag me @mkilianpalmer so we can all see your lovely creations! Keep scrolling: you can PIN this recipe for later, see detailed macros and browse other recipes in this category.
You can also drop me a comment if you have any questions about this recipe. I will do my best to reply as quickly as possible. Monya xxx


Summary
Recipe
Smoked Paprika Chicken & Chorizo Bake (Low-carb)
Author
Published On
Total Time
Average Rating
Based on 7 Review(s)
FOR READERS OUTSIDE THE UK
: Missing anything you might need? The links on this website are directed at the UK market and show the products I use here. However, you can get everything you might need from Amazon.
---

---
Nutritional Information per serving
Calories                         653Kcal / 2732kJ
Fat                                 46g
Carbohydrates               5.7g
Protein                           54g
Allergens
Wheat
(may be found in chorizo - check label)
Sulphites
---
---

Disclaimer: The nutritional analysis, macro and allergen breakdown of the recipes on this site have been manually and carefully calculated using the cloud-based software NUTRITICS®. NUTRITICS® is fully approved by the relevant Trading Standards organizations and is EU and FDA-compliant. The macro calculations are provided as a courtesy to you based on the author's weighing of ingredients when creating the dishes. If Erythritol (a sugar polyol) has been used in any of the recipes, it has already been manually excluded from the final carbohydrate count. The author is a chef - not a medical professional - and this website has been designed to provide you with recipe ideas to suit the low carb lifestyle you have discussed with your GP.

Disclosure: Like many blogs, Fats of Life is part of the Affiliates Program on Amazon. The links to the products recommended here are affiliate links, meaning - at no additional cost to you - the author will earn a small commission if you click through and make a purchase.
---