I grew up in South Africa and a mandatory 'potato bake' was the highlight of any braai – especially in my family where my aunt would get frequent requests to bring one along to family gatherings. It is a wonderful memory and one that deserved mention here. After moving to the UK in 2012, I used to make my own version, which was more of a classic Dauphinoise. After going keto in early 2018, not being able to tuck into one was the only thing that stung a little – until I discovered how low in carbs celeriac was! So, I adapted the exact recipe I used to do, but used celeriac instead of potatoes – with fantastic results! Try it alongside the Pork Belly and Keto Gravy recipe on this site.
This recipe is rich and filling and would sufficiently feed 5-6 people as a side dish. However, it came in so low in carbs, I decided to calculate the macros that this recipe would serve 4 because I just know you will want more. At only 5.8g carbs per VERY generous serving you will thank me for advising this. If you are cooking for a larger crowd, use the facility on the recipe plugin below and double up the ingredients. Simply prepare the celeriac in batches and use a larger dish. (You may have to also increase the cooking time.) Use a mandolin (with a guard please!) if you can't get them paper thin like I can with my trusty Robert Welch. THIS RECIPE IS ACCOMPANIED WITH A VIDEO. (Scroll down to see it, and be sure to watch the blooper reel Funnyman slips in at the end!)

– – – – – – PER SERVING – – – – – –
Carbs 5.8g | Fat 48g | Protein 5.6g
– – – – – – – – – – – – – – – – – – – – –

*IN THE NEWS*: My cookbook KETO KITCHEN (published by Kyle Books, London) is now available to purchase in paperback or e-book. Click here to read more about where it can be purchased (where ever you are in the world), plus some of the fantastic reviews that have been coming in!

"I want you to achieve the best outcome with all the recipes on Fats of Life. If you haven't already done so, please read the RECIPE SUCCESS page which is packed with handy tips and advice. Happy Cooking, everyone!" – Monya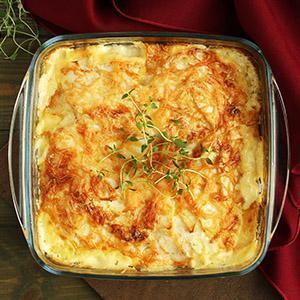 Pin me
Keto Celeriac Dauphinoise
A fantastic alternative to potatoes, this delicious Keto Celeriac Dauphinoise comes in at only 5.8g carbs per (generous!) serving. (For my UK readers, scroll to the end of the recipe to see image ads of the products I use.)
Servings
4
as a side dish
Ingredients
1

large celeriac

,

(approx. 1kg / 35oz)

20

g

(

0.7

oz

)

unsalted butter

3

cloves garlic

,

peeled and finely sliced

300

g

(

10.6

oz

)

double cream

salt and white pepper

30

g

(

1.1

oz

)

Gruyere cheese

fresh thyme

,

to garnish
Instructions
Preheat the oven to 160°C (fan oven). This is 180°C for conventional ovens (or 350°F / gas mark 4).

Use a good-quality vegetable peeler to remove the skin from the celeriac. (If you slice the peel away, you risk more wastage than necessary.) It's a messy affair and you may need to wipe the peeled celeriac with wet kitchen paper to clean.

Halve the celeriac to make it easier to slice, then patiently slice as thin as possible. You could use a mandolin for this (if you do, please use the guard), but I find I get much thinner slices when doing it by hand with my super-sharp knife (I sharpen my trusty Robert Welch every day). I advise you do whatever you are more comfortable with, but the important thing is that the celeriac is very thin (2mm).

I yielded 700g (25oz) celeriac slices from my 1kg (35oz) unpeeled celeriac – and this is how the macros were calculated. I advise if you wish to make a bigger batch to serve a larger crowd, double the recipe using the facility above and use a larger dish.

Melt the butter in a very large non-stick pan. Fry the sliced garlic over low-moderate heat until softened.

Tip all the sliced celeriac into the pan. Stir well to evenly coat the celeriac in the butter and garlic.

Add all the cream and cook for 2-3 minutes, stirring well to evenly coat the celeriac in the cream and warm the cream through. Season the mixture generously with salt and white pepper.

Remove the pan from the heat and use a large spoon or spatula to scoop the celeriac into a suitable, greased baking dish (mine was 20x 20cm / 8x 8-inch). Ensure it is layered evenly in height.

Once it has all been spooned in, spoon over any remaining cream from the pan. I like to place the dish onto another tray in case any cream or cheese bubbles over. Place on the middle rack of the oven for 30 minutes.

After 30 minutes, cover the surface with grated Gruyere cheese and cook for an additional 30 minutes - or until the celeriac has completely softened. You can test this the same way you would test a potato bake: just stick a fork in it!

The cheese will also have browned and crisped. (If you find it still feels too firm / uncooked, cook for a little longer, but do not increase the heat else the cheese will burn).

Season with pink Himalayan salt and scatter over fresh thyme.
Watch the video (... with blooper reel!)
A new-and-improved version of this delicious recipe features in my cookbook KETO KITCHEN.
---
For those on INSTAGRAM, tag me @mkilianpalmer so we can all see your lovely creations! Keep scrolling: you can PIN this recipe for later, see detailed macros and browse other recipes in this category.
I have disabled the print option for my recipes (doing my bit to save the trees), so be sure to bookmark this page in your browser for future reference.
---

UK READERS: Missing anything you might need? The

green

links on the recipe above are directed at the global Amazon market and will auto-direct to your country (if you are not in the USA) and possibly show up an incorrect product. However, the image ads below are especially targeted at UK readers, and will link to the products I use and recommend.
---

Nutrition
Calories:
474
kcal
|
Carbohydrates:
5.8
g
|
Protein:
5.6
g
|
Fat:
48
g
Summary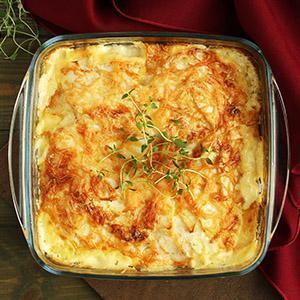 Recipe
Keto Celeriac Dauphinoise
Author
Published On
Total Time
Average Rating
Based on 12 Review(s)
Nutritional Information per serving
Calories                        474Kcal / 1983kJ
Fat                                48g
Carbohydrates              5.8g
Protein                          5.6g
Allergens
Celery
Milk
---
---

Disclaimer: The nutritional analysis, macro and allergen breakdown of the recipes on this site have been manually and carefully calculated using the cloud-based software NUTRITICS®. NUTRITICS® is fully approved by the relevant Trading Standards organizations and is EU and FDA-compliant. The macro calculations are provided as a courtesy to you based on the author's weighing of ingredients when creating the dishes. If Erythritol (a sugar polyol) has been used in any of the recipes, it has already been manually excluded from the final carbohydrate count. The author is a chef - not a medical professional - and this website has been designed to provide you with recipe ideas to suit the low carb lifestyle you have discussed with your GP.

Disclosure: Like many blogs, Fats of Life is part of the Affiliates Program on Amazon. The links to the products recommended here are affiliate links, meaning - at no additional cost to you - the author will earn a small commission if you click through and make a purchase.
---