These are just fabulous! They are low in carbs, high in fat and worth all the effort. I know its #dirtyketo, but this is due to the use of (deliciously addictive) Kielbasa – a smoked Polish sausage which contains a little wheat and soy, and is a processed meat. But at 7.9g carbs for this giant whopper, I think its worth being a little filthy. For my South African readers, these are what you know as "Russians", and this would essentially be a "Russian Roll". I made these using a 'dough' influenced from the fathead concept and if you are a low-carber that is still keeping an eyeball on your calories, watch out and perhaps enjoy this after a day of fasting. The Kielbasa was calculated as 120g / 4.2oz per portion and my long monster was double this, so I cut it in half to make two appropriate-sized pieces. Also, the macros do not include the spicy tomato relish but I highly advise that you whip a quick relish up because the sweet acidity it brings to every bite is just lovely! THIS RECIPE IS ACCOMPANIED WITH A VIDEO. (Scroll down to see it, and be sure to watch the blooper reel Funnyman slips in at the end!)

– – – – – – PER SERVING – – – – – –
Carbs 7.9g | Fat 87g | Protein 51g
– – – – – – – – – – – – – – – – – – – – –

Fats of Life® is a blog I run as a hobby. I love spending time on it, but did you know that I am also the author of two best-selling cookbooks? KETO KITCHEN (2020) and LAZY KETO KITCHEN (2021) – both available worldwide and very well-priced. I have a third book on the way: BUDGET KETO KITCHEN, (coming mid-2022).


Perhaps its time to start building up your Keto Kitchen collection if you have not already done so. Not only will my books make beautiful Christmas stocking fillers for loved ones interested in a low carb lifestyle, but you could simply treat YOURSELF! Your family (whether they live keto or not) will not be disappointed with all your exciting, delicious creations!
"Take a peak in My Keto Pantry, which shows the preferred brands of 'special' ingredients I use. Be sure to also sign up to my newsletter where I send a monthly recap (ensuring you never miss a new recipe!)" – Monya
Fathead Sausage Rolls (Low-carb)
Rich, delicious low-carb fathead sausage rolls using Kielbasa (a Polish smoked sausage), coming in at only 7.9g carbs per (very generous) sausage roll.
Per serving
Calories:
1019
kcal
|
Carbohydrates:
7.9
g
|
Protein:
51
g
|
Fat:
87
g
Ingredients
For the sausage rolls
100

g

(

3.5

oz

) almond flour

1

tsp

baking powder

1

tsp

garlic powder

generous pinch salt

1

egg

170

g

(

6

oz

)

full-fat strong Cheddar cheese

,

grated

60

g

(

2.1

oz

)

full-fat cream cheese (soft cheese)

2

Polish sausages (Kielbasa)

,

(120g / 4.2oz) per sausage

2

tsp

sesame seeds
For the tomatoes on the side (optional)
2

medium

tomatoes

1

red chili

20

g

(

0.7

oz

)

reduced-sugar tomato ketchup
Instructions
Preheat the oven to 180°C (fan oven). This is 200°C for conventional ovens (or 400°F / gas mark 6).

Combine the almond flour, baking powder, salt and garlic powder in a bowl. Whisk the egg well in a separate bowl.

Place the grated Cheddar and cream cheese into a wide-bottomed microwave friendly bowl. Place the bowl of cheese in the microwave for 1 min 30 seconds, until the cheese completely melts.

Immediately tip the melted cheese into the bowl of almond flour mix and use a wooden spoon to vigorously combine the mixture. Alternatively, you could combine this in a mini food processor which is much easier!

Add the whisked egg and continue to mix until the mixture comes together as a sticky dough. It may seem like its not coming together - but it will.

Allow to cool slightly (I highly advise keeping the 'dough' in the fridge for 20-30 minutes if you have the time to spare - it makes it easier to work with). Tip the ball of dough between two sheets of baking parchment paper. Use a rolling pin to roll out into a rectangular shape. Do not roll it too thin.

Peel off the top layer of parchment. Do not be alarmed if some 'stringy' bits pull away. The 'dough' is easily manipulated and you can simply pinch pieces closed or press them back in.

Use your pastry scraper to neaten up the edges as a rectangle, then 'divide' the mixture into two equal parts by simply scraping it down the centre and making a visible dividing line. Place the sausages onto each half.

Cut the parchment paper into two, so you can work with each piece individually. Gently roll the piece over, folding the dough around the sausage. (The next part is tricky and a little messy, so before you get your hands messy, prepare a baking tray lined with a fresh piece of parchment paper. )

Peel off the parchment from around the dough-wrapped sausage. Again, don't worry if some 'stringy' bits pull away. Now is where your pastry scraper comes in handy to nudge the dough from the parchment onto the dough-wrapped sausage.

Don't worry if there are any holes. Place each one onto the baking tray lined with parchment you prepared - allowing enough space between the two. Use clean hands to shape the dough around the sausage, and now is where you can pinch closed any holes.

Scatter over the sesame seeds and bake in the preheated oven for 20-25 minutes, rotating the tray halfway through.

If you choose to have the fresh tomatoes on the side, chop the tomatoes and finely chop the red chili (while the sausage rolls are baking). Place in a bowl and mix in the reduced-sugar ketchup. Serve alongside the sausage rolls. (The tomato relish is not included in the macros.)

Enjoy! *And be careful as they are piping hot inside!*
Watch the video (... with blooper reel!)
A new-and-improved version of this delicious recipe features in my cookbook LAZY KETO KITCHEN.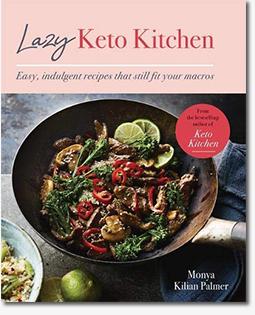 For those on INSTAGRAM, tag me @mkilianpalmer so we can all see your lovely creations! Keep scrolling: you can PIN this recipe for later, see detailed macros and browse other recipes in this category.
You can also drop me a comment if you have any questions about this recipe. I will do my best to reply as quickly as possible. Monya xxx


Summary
Recipe
Fathead Sausage Rolls (Low-carb)
Author
Published On
Total Time
Average Rating
Based on 10 Review(s)
FOR READERS OUTSIDE THE UK
: Missing anything you might need? The links on this website are directed at the UK market and show the products I use here. However, you can get everything you might need from Amazon.
---

---
Nutritional Information per serving
Calories                         1019Kcal / 4263kJ
Fat                                 87g
Carbohydrates               7.9g
Protein                           51g
Allergens
Almonds
Eggs
Milk
Sesame
Celery
(may be found in the Kielbasa)
Mustard
(may be found in the Kielbasa)
Wheat
(may be found in the Kielbasa)
Soya
(may be found in the Kielbasa)
---
---

Disclaimer: The nutritional analysis, macro and allergen breakdown of the recipes on this site have been manually and carefully calculated using the cloud-based software NUTRITICS®. NUTRITICS® is fully approved by the relevant Trading Standards organizations and is EU and FDA-compliant. The macro calculations are provided as a courtesy to you based on the author's weighing of ingredients when creating the dishes. If Erythritol (a sugar polyol) has been used in any of the recipes, it has already been manually excluded from the final carbohydrate count. The author is a chef - not a medical professional - and this website has been designed to provide you with recipe ideas to suit the low carb lifestyle you have discussed with your GP.

Disclosure: Like many blogs, Fats of Life is part of the Affiliates Program on Amazon. The links to the products recommended here are affiliate links, meaning - at no additional cost to you - the author will earn a small commission if you click through and make a purchase.
---