Some may turn their nose up at mashing up cauliflower to mimic The Great Potato, but if you try it like this – you will be converted. I didn't just stop at using a potato masher, I added full-fat cream cheese and then blitzed the mixture into a creamy, (dreamy) puree. All it needed was a little seasoning and it's perfect as a side dish to mop up all those lovely flavours of your dish. You could also use it like I did to top my Low-carb Seafood Bake and Spicy Low-carb Cottage Pie.

– – – – – – – – – – – – per serving – – – – – – – – – – – –
Carbs 4.3g (15.6%); Fat 7.9g (64.8%); Protein 5.4g (19.9%)
– – – – – – – – – – – – – – – – – – – – – – – – – – – – – – –
FOLLOW MONYA, UK Chef & Author of Fats of Life:

Join my Facebook community: Keto Recipes for Foodies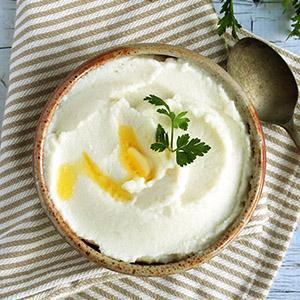 520

g

cauliflower florets

cut into equal-size pieces

50

g

full-fat cream cheese

salt and white pepper

2

tsp

unsalted grass-fed butter

to serve
520

g

cauliflower florets

cut into equal-size pieces

50

g

full-fat cream cheese

salt and white pepper

2

tsp

unsalted grass-fed butter

to serve
Trim the cauliflower into equal-sized pieces.

Bring a large pan of salted water to the boil. Add the cauliflower florets and cook until they have softened completely, this can take up to 20 minutes. To test, pierce a floret with a fork and it should slide off instantly.

Drain well in a colander or large sieve and leave to steam off for a few minutes.

Mash immediately using a potato masher, adding the cream cheese halfway through. Season with salt and pepper.

For extra creamy mash, place the mixture into a mini food processor and blitz until smooth.

Keep warm until ready to serve - and serve with a little unsalted grass-fed butter. Game changer!

The full macro-breakdown (and allergens) can be found further down this page (keep scrolling), as well as the link to PIN THE RECIPE (for those on Pinterest). There is also a comment facility, so do let me know how you get on...
Did you like this recipe? I send a short e-blast on the last day of every month to highlight all the recipes I posted that month. Sign up here to get the recap in your inbox - ensuring you never miss a recipe. (You can unsubscribe at any time).
Photographs and recipes on FATS OF LIFE are copyright © Monya Kilian Palmer. However, these recipes were created for you to enjoy and share, so feel free to share the link of this recipe on your social media channels. If you are on Instagram, find me here. Happy cooking!
DISCLOSURE: Like many blogs, I am part of the Affiliates Program on Amazon. The links to the products I recommend on this page are affiliate links, meaning - at no additional cost to you - I will earn a small commission if you click through and make a purchase.
FOLLOW ME

Join my Facebook community: Keto Recipes for Foodies
Summary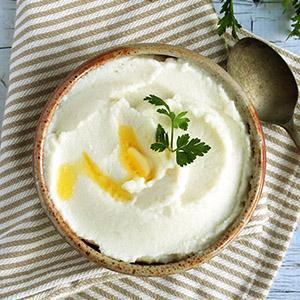 Recipe
Creamy Cauliflower Mash (Keto)
Author
Published On
Total Time
Average Rating
Based on 7 Review(s)
Macro Details per serving
15.6%    Carbs
19.9%    Protein
64.8%    Fat
Nutritional Information per serving
Calories                         110Kcal / 460kJ
Fat                                 7.9g
 of which saturates        4.6g
Carbohydrates              4.3g (for my US readers, these are what you refer to as net carbs. See below*)
 of which sugars            3.6g
Fibre                              2.3g
Protein                           5.4g
*
Note for US readers
:
The recipes on this site show the carbohydrates which should be counted on keto (in this case: it's 4.3g). Here in the UK, our nutritional breakdown information displays a carbohydrate count that has already had the dietary fibre subtracted (and displayed separately) - and its indicated this way throughout the site. In short, you need not subtract anything further.
Allergens
Milk
Eggs (
may be found in cream cheese
)
---
See all the Side dishes
on Fats of Life:
Lemon & Thyme Fried Keto 'Gnocchi' (Nut-free)
Fried Keto Gnocchi (Nut-free)
Cheesy Celeriac Mash (Keto)
Cauliflower in Thyme Butter (Keto)

Disclaimer: The nutritional analysis, macro and allergen breakdown of the recipes on this site are meticulously calculated using the cloud-based software NUTRITICS®. NUTRITICS® is fully approved by the relevant Trading Standards organizations and is EU and FDA-compliant. The author, Monya Kilian Palmer is trained in using this superior software in order to provide you accurate data. The author is not a medical professional and this website has been designed only to provide you with recipes to suit the keto lifestyle you have chosen and discussed with your GP. The macros calculations are provided as a courtesy to you based on Monya's weighing of ingredients when creating the dishes. If Erythritol (a sugar polyol) has been used in any of the recipes, it has already been manually excluded from the final carbohydrate count for you.