Our South African roots will be evident in the inspiration behind this dish. Firstly, you should know that Funnyman and I LOVE to braai (BBQ). We don't use charcoal (shudder) and we don't use gas (even bigger shudder) – we actually import our wood from South Africa via a fabulous company here in the UK that provides us with kameeldoring wood which is excellent. You see, South Africans don't braai just to eat. We spend hours watching the logs burn down to coals while we chat with loved ones. And then, after everyone has eaten, we throw more wood on the fire and just watch the flames as we contemplate life! As you can imagine, coal and gas BBQs just won't cut it for us.


Funnyman (much like every other Saffer) cleans his grid every time we braai by simply scraping the grid with half an onion while the flames are still high. It works like a charm: we simply burn off last week's food using the onion (and sometimes a half lemon) to help things along. Anyway, every time he does this, he brings the burnt onion for me to sniff and I am sent to high heaven! We never eat that half onion, but it was my inspiration for this recipe: I wanted that intoxicating smell and flavour of charred onions in something we could eat.
After some careful thought on how to do this, I came up with this brilliant idea! Be sure to slice the onions thick (as pictured) and you have a lovely element to add to your BBQ side dish! Macros are calculated as one onion piece per person, but if you want more than one you will have to double the macros. Onions can be high in carbs, but they have fabulous other health properties, so the carbs in them don't scare me too much (I wrote a little article about that if it interests you). Lastly, I melted my delicious Chilli Compound Butter on them… THIS RECIPE IS ACCOMPANIED WITH A VIDEO. (Scroll down to see it, and be sure to watch the blooper reel Funnyman slips in at the end!)

– – – – – – PER SERVING – – – – – –
Carbs 3.7g | Fat 12g | Protein 0.6g
– – – – – – – – – – – – – – – – – – – – –
*IN THE NEWS*: My cookbook KETO KITCHEN (published by Kyle Books, London) is now available to purchase in paperback or e-book. Click here to read more about where it can be purchased (where ever you are in the world), plus some of the fantastic reviews that have been coming in!

"I want you to achieve the best outcome with all the recipes on Fats of Life. If you haven't already done so, please read the RECIPE SUCCESS page which is packed with handy tips and advice. Happy Cooking, everyone!" – Monya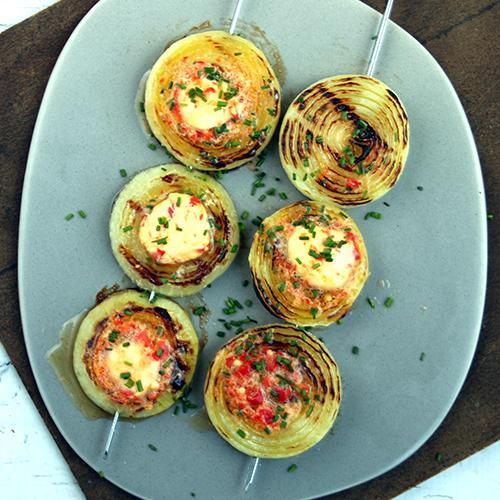 Pin me
BBQ Onion Skewers with Chilli Butter (Keto)
A fun and interesting way to cook onions on the BBQ, these thick slices were skewered then grilled to perfection and finished with homemade chilli butter. (For my UK readers, scroll to the end of the recipe to see image ads of the products I use.)
Instructions
Assuming your Chilli Butter is prepared and in the fridge, proceed with the recipe:

I used three large onions to yield 6 thick slices (from the middle part of the onions) - and they were approx 45g (1.6oz) each.

Remember to slice the onion on its side, as pictured below. Do not discard all the ends - simply keep them aside for when other recipes call for chopped onions. I am not a fan of food waste, so wrap them well and use the trimmings in other ways. I love my onion pod saver (visible in the pic) which I found at Lakeland here in the UK.

Use 2 metal BBQ skewers to carefully thread through the centre of the onion pieces. I do not recommend using wooden skewers for this: they break easily with the tough onion and its very dangerous if you slip.

Brush with olive oil while you prepare your BBQ. At the same time, preheat the oven to 100°C (fan oven). This is 120°C for conventional ovens (or 210°F / gas mark 1).

Once the coals are ready, place the onions onto the grill and get some great char-marks on one side, before gently flipping over (I recommend doing this with your hands using BBQ gloves) and get some char-marks on the underside. Touch the onions, they should start to feel really tender after about 10-12 minutes.

Remove them from the BBQ and place onto a tray. Pop them in the warm oven for 15 minutes to gently finish cooking through.

In the meantime, remove the Chilli Compound Butter from the fridge. Unwrap and slice into 6 thick slices.

Just before serving, slide the onions gently off the skewers and place a disc of butter on top to melt. Season with smoked sea salt flakes and scatter over the snipped chives.
Watch the video (... with blooper reel!)

For those on INSTAGRAM, tag me @mkilianpalmer so we can all see your lovely creations! Keep scrolling: you can PIN this recipe for later, see detailed macros and browse other recipes in this category.
I have disabled the print option for my recipes (doing my bit to save the trees), so be sure to bookmark this page in your browser for future reference.
---

UK READERS: Missing anything you might need? The

green

links on the recipe above are directed at the global Amazon market and will auto-direct to your country (if you are not in the USA) and possibly show up an incorrect product. However, the image ads below are especially targeted at UK readers, and will link to the products I use and recommend.
---

Nutrition
Calories:
125
kcal
|
Carbohydrates:
3.7
g
|
Protein:
0.6
g
|
Fat:
12
g
Summary
Recipe
BBQ Onion Skewers with Chilli Butter (Keto)
Author
Published On
Total Time
Nutritional Information per serving
(1 onion slice with chilli butter)
Calories                        125Kcal / 523kJ
Fat                                12g
Carbohydrates              3.7g
Protein                          0.6g
Allergens
Milk
---
---

Disclaimer: The nutritional analysis, macro and allergen breakdown of the recipes on this site have been manually and carefully calculated using the cloud-based software NUTRITICS®. NUTRITICS® is fully approved by the relevant Trading Standards organizations and is EU and FDA-compliant. The macro calculations are provided as a courtesy to you based on the author's weighing of ingredients when creating the dishes. If Erythritol (a sugar polyol) has been used in any of the recipes, it has already been manually excluded from the final carbohydrate count. The author is a chef - not a medical professional - and this website has been designed to provide you with recipe ideas to suit the low carb lifestyle you have discussed with your GP.

Disclosure: Like many blogs, Fats of Life is part of the Affiliates Program on Amazon. The links to the products recommended here are affiliate links, meaning - at no additional cost to you - the author will earn a small commission if you click through and make a purchase.
---