Just in time for summer! This is a fantastic keto garlic bread roughly based on the fathead dough concept. This recipe will yield 12 slices and the macros have been calculated on one serving being 2 slices (because who eats only one slice of garlic bread at a braai?) – so this will sufficiently feed 6 people. I used equal amounts of (recently discovered) extra-fine almond flour and regular almond flour to achieve the texture I wanted. NOTE: I have not developed this recipe using only regular almond flour, but I anticipate a much stickier mixture which will be impossible to work with – so I encourage you to invest in a bag of the extra-fine flour which I have so far only seen available at amazon). Perhaps Holland & Barrett will stock it in the future if we all kick up enough of a fuss. Sealed well, almond flour will last a long time, and you will love this keto garlic bread so much, its best you have a bag on hand this summer. Be sure to also check out all the other Bread recipes on this site..

– – – – – – – – – – – – per serving – – – – – – – – – – – –
Carbs 3.1g (4.1%); Fat 27g (79.5%); Protein 12g (16.3%)
– – – – – – – – – – – – – – – – – – – – – – – – – – – – – – –
FOLLOW MONYA, UK Chef & Author of Fats of Life:

Join my Facebook community: Keto Recipes for Foodies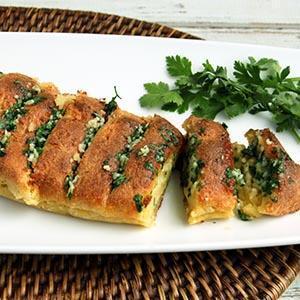 50

g

almond flour

1

tsp

baking powder

1

tsp

garlic powder

generous pinch of salt

170

g

grated mozzarella cheese

85

g

full-fat cream cheese

1

egg
50

g

unsalted grass-fed butter

softened (room temp)

5

g

flat leaf parsley

finely chopped

5

cloves garlic

crushed

pinch salt
50

g

almond flour

1

tsp

baking powder

1

tsp

garlic powder

generous pinch of salt

170

g

grated mozzarella cheese

85

g

full-fat cream cheese

1

egg

50

g

unsalted grass-fed butter

softened (room temp)

5

g

flat leaf parsley

finely chopped

5

cloves garlic

crushed

pinch salt
Preheat the oven to 170°C / 340°F.

Combine the almond flour, extra-fine almond flour, baking powder, garlic powder and salt together in a bowl. Whisk the egg well in a separate bowl.

Place the mozzarella into a wide-bottomed, microwave-friendly bowl. Add the cream cheese. This is what you should have ready:

NOTE: If you are concerned about the small amount of potato starch in some store-bought ready-grated mozzarella, you could use fresh mozzarella. However if you do, roughly chop the fresh mozzarella into small pieces. (We melt it anyway, but in this way you can ensure even melting.)

Place the bowl of cheese in the microwave for 1 min 40 seconds, until the cheese completely melts. VERY IMPORTANT NOTE: If you chose to use fresh mozzarella, you MUST tip out all the excess liquid which separates from the melted cheese as this will make your mixture far too runny. (You won't have this issue when using store-bought ready-grated mozzarella. Macros for this recipe are based on the latter, but I switch up the kind of mozzarella I use in my fathead dough recipes, and as long as I tip out excess moisture from the fresh kind - they are inter-changeable, so use whichever you prefer.)

While the cheese in the microwave, place the almond flour mixture into a mini food processor.

Immediately tip the melted cheese mixture into the mini food processor. Blitz well. You may have to stop and scrape down the bowl, or in some cases, unwrap the stringy mozzarella which might 'wrap' around your blade, and blitz until combined.

Add the egg and continue to mix until it comes together as a sticky dough. NOTE - if you feel like your 'dough' is far too 'wet', add a tablespoon or two of almond flour. You shouldn't have this problem if you tipped out ALL the excess watery liquid after melting the (fresh) mozzarella. (And you won't have this problem at all if using store-bought, ready grated mozzarella.)

Tip the dough onto a sheet of baking parchment paper.

After the dough has cooled a little (making it easier to handle), use your hands and a pastry scraper to shape the dough into a long log.

Run a sharp knife under very hot water, then slice the dough into 12 equal-size pieces - but do not slice all the way through, three-quarters of the way down will suffice. Run your knife under the hot water between each slice. This will help not "squash" the dough when slicing.

Place the parchment with the sliced dough onto a baking tray. To ensure the log keeps it shape, I scrunched up foil on either side of the log under the parchment to allow the bread to fit snugly in-between. Place the tray in the preheated oven for 15 minutes.

After 15 minutes, remove the tray from the oven and use your knife to make the incisions again in case they may have baked 'closed'.

Return to the oven for another 10 minutes.

In the meantime, make the garlic butter by simply adding the softened butter, finely chopped parsley and finely crushed garlic in a small bowl. Season with salt and combine well. (NOTE: I used a garlic press here to ensure I only yielded the lovely inner garlic flesh. Discard the bits left in the press between crushing each clove.)

After the full 25 minutes in the oven, remove the tray and fill the incisions with the prepared garlic butter. I used a palette knife to do so, but a small spoon or knife will work fine.

Return the tray to the oven for 5 minutes, but you can switch the oven off at this time and allow the residual heat of the oven to gently finish the bread.

The full macro-breakdown (and allergens) can be found further down this page (keep scrolling), as well as the link to PIN THE RECIPE (for those on Pinterest). There is also a comment facility, so do let me know how you get on...
I used extra-fine almond flour as well as regular almond flour in this recipe to achieve the texture I wanted. If you choose not to use extra-fine almond flour, you may end up with a very sticky, moist dough mixture - so I encourage you to have a bag of the extra-fine stuff on hand because I love it and will be using it often in the future.
Did you like this recipe? I send a short e-blast on the last day of every month to highlight all the recipes I posted that month. Sign up here to get the recap in your inbox - ensuring you never miss a recipe. (You can unsubscribe at any time).
Photographs and recipes on FATS OF LIFE are copyright © Monya Kilian Palmer. However, these recipes were created for you to enjoy and share, so feel free to share the link of this recipe on your social media channels. If you are on Instagram, find me here. Happy cooking!
DISCLOSURE: Like many blogs, I am part of the Affiliates Program on Amazon. The links to the products I recommend on this page are affiliate links, meaning - at no additional cost to you - I will earn a small commission if you click through and make a purchase.
FOLLOW ME

Join my Facebook community: Keto Recipes for Foodies
Summary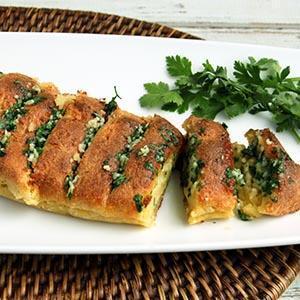 Recipe
Tear-and-share Keto Garlic Bread
Author
Published On
Total Time
Average Rating
Based on 3 Review(s)
Macro Details per serving (2 slices)
4.1%              Carbs
16.3%            Protein
79.5%            Fat
Nutritional Information per serving (2 slices)
Calories                         300Kcal / 1255kJ
Fat                                  27g
 of which saturates         11g
Carbohydrates               3.1g (for my US readers, these are what you refer to as net carbs. See below*)
 of which sugars             1.5g
Fibre                               2.5g
Protein                           12g
*
Note for US readers
:
The recipes on this site show the carbohydrates which should be counted on keto (in this case: it's 3.1g). Here in the UK, our nutritional breakdown information displays a carbohydrate count that has already had the dietary fibre subtracted (and displayed separately) - and it's indicated this way throughout the site. In short, you need not subtract anything further.
Allergens
Almonds
Eggs
Milk
Wheat
(may be found in the baking powder)
---
See all the Fathead Dough-inspired recipes
on Fats of Life:
Tear-and-share Garlic Bread (Keto)
'Rustic' Pesto & Cheddar Fathead Rolls (Keto)
Easter Cinnamon Rolls (Keto)
Fathead Sausage Rolls (Low carb)
Fathead Spinach & Ricotta Calzone
Ham & Gruyere Rolls (using Fathead Dough)

Disclaimer: The nutritional analysis, macro and allergen breakdown of the recipes on this site are meticulously calculated using the cloud-based software NUTRITICS®. NUTRITICS® is fully approved by the relevant Trading Standards organizations and is EU and FDA-compliant. The author, Monya Kilian Palmer is trained in using this superior software in order to provide you accurate data. The author is not a medical professional and this website has been designed only to provide you with recipes to suit the keto lifestyle you have chosen and discussed with your GP. The macros calculations are provided as a courtesy to you based on Monya's weighing of ingredients when creating the dishes. If Erythritol (a sugar polyol) has been used in any of the recipes, it has already been manually excluded from the final carbohydrate count for you.