The Ham & Gruyere Rolls recipe that I posted a few weeks ago was so well-received (please try it), I decided to shake things up a bit and use a similar concept with fresh homemade Basil Pesto and grated Cheddar. There was one very significant change to the dough recipe (which is loosely based on the "fathead" concept): I experimented with extra-fine almond flour in addition to regular almond flour. Some adjustments had to be made to the remaining ingredients, but the texture was exactly what I was after and the BONUS factor was that the raw 'dough' was SO much easier to work with! If you choose to follow this recipe, please include the extra-fine almond flour – I cannot guarantee successful results if you don't. I titled them "rustic" because while they do puff and rise, they lop to the side and look exactly like something that is made at home with love (that's how we all cook, right?) Regarding the basil pesto, my fresh Homemade Pesto on this site is simple unbeatable. It takes a few minutes to make and is SO worth the effort..
– – – – – – PER SERVING – – – – – –
Carbs 4.5g | Fat 48g | Protein 24g
– – – – – – – – – – – – – – – – – – – – –

Exciting news for foodies: Monya's cookbook KETO KITCHEN (published by Kyle Books, London 2020) is coming to the market this summer. Its currently available to pre-order on Amazon.


"I want you to achieve the best outcome with all the recipes on Fats of Life. If you haven't already done so, please read the RECIPE SUCCESS page which is packed with handy tips and advice. I also send a short e-blast at the end of every month, sign up here to ensure you never miss a recipe. If you loved the recipe and want to show your appreciation to me directly, you can do so by clicking here. Happy Cooking, everyone!" – Monya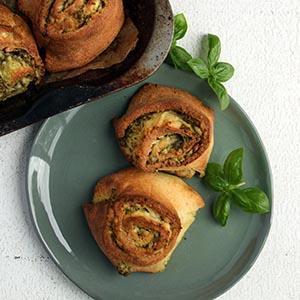 Pin me
Rustic Pesto & Cheddar Fathead Rolls (Keto)
Delicious bread rolls based on the fathead concept: these keto pesto rolls are made using extra-fine almond flour achieving an amazing texture. (For my UK readers, scroll to the end of the recipe to see image ads of the products I use.)
Ingredients
50

g

almond flour

50

g

(

3.5

oz

) extra-fine almond flour

1

tsp

baking powder

salt

1

egg

170

g

(

6

oz

)

grated mozzarella cheese

85

g

(

3

oz

)

full-fat cream cheese (soft cheese)

95

g

(

3.4

oz

) Keto Basil Pesto,

Fats of Life recipe

70

g

(

2.5

oz

)

full-fat Cheddar cheese

,

grated
Instructions
Preheat the oven to 170°C (fan oven). This is 190°C for conventional ovens (or 375°F / gas mark 5).

Combine the extra-fine almond flour, baking powder and salt together in a bowl. Whisk the egg well in a separate bowl.

In a third, wide-bottomed bowl, add the grated mozzarella and cream cheese. This is what you should have ready:

NOTE: If you are concerned about the small amount of potato starch in some store-bought ready-grated mozzarella, you could use fresh mozzarella. However if you do, roughly chop the fresh mozzarella into small pieces. (We melt it anyway, but in this way you can ensure even melting.)

Place the bowl of cheese in the microwave for 1 min 20 seconds, until the cheese completely melts. VERY IMPORTANT NOTE: If you chose to use fresh mozzarella, you MUST tip out all the excess liquid which separates from the melted cheese as this will make your mixture far too runny. (You won't have this issue when using store-bought ready-grated mozzarella. Macros for this recipe are based on the latter, but I switch up the kind of mozzarella I use in my fathead dough recipes, and as long as I tip out excess moisture from the fresh kind - they are inter-changeable, so use whichever you prefer.)

While the cheese in the microwave, place the almond flour mixture into a mini food processor.

Immediately tip the melted cheese mixture into the mini food processor. Blitz well. You may have to stop and scrape down the bowl, or in some cases, unwrap the stringy mozzarella which might 'wrap' around your blade, and blitz until combined.

Add the egg and continue to mix until it comes together as a sticky dough. NOTE - if you feel like your 'dough' is far too 'wet', add a tablespoon of almond flour. You shouldn't have this problem if you tipped out ALL the excess watery liquid after melting the (fresh) mozzarella. (And you won't have this problem at all if using store-bought, ready grated mozzarella.)

Tip the dough out onto a long sheet of baking parchment paper. Cover with a second long sheet of parchment paper and use a rolling pin to roll out a long, rectangle. Use a pastry scraper to neaten up the rectangle, the 'dough' is easy to manipulate and spread.

Lift the top sheet of parchment and use a silicon spatula to spread on the basil pesto.

Cover with the grated Cheddar..

This is where it gets a bit tricky: roll the dough up, but do so gently, using a pastry scraper to move things along and assist the dough from lifting from the paper. Continue until you have a solid 'log'.

Now, run a sharp knife under boiling hot tap water and slice the cylinder into 4 pieces, running the knife under hot water between each slice. This makes it easier to slice through without 'squashing' the dough. (I hope you have a good quality knife that you sharpen daily.)

Place the pieces cut-side up in a baking dish lined with baking parchment paper.

Bake in the oven for 20 minutes, then (without opening the oven door), switch the oven off and leave the rolls in there to finish baking in the residual heat for another 5 minutes. DELICIOUS!
Notes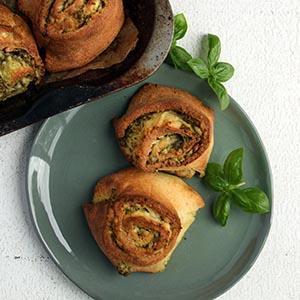 For those on INSTAGRAM, tag me @mkilianpalmer so we can all see your lovely creations! Keep scrolling: you can PIN this recipe for later, see detailed macros and browse other recipes in this category.
I have disabled the print option for my recipes (doing my bit to save the trees), so be sure to bookmark this page in your browser for future reference.
---
---
UK READERS: Missing anything you might need? The

green

links on the recipe above are directed at the global Amazon market and will auto-direct to your country (if you are not in the USA) and possibly show up an incorrect product. However, the image ads below are especially targeted at UK readers, and will link to the products I use and recommend.
---
Nutrition
Calories:
552
kcal
|
Carbohydrates:
4.5
g
|
Protein:
24
g
|
Fat:
48
g
Summary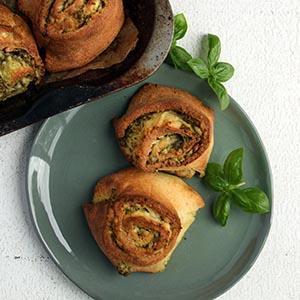 Recipe
Rustic Pesto & Cheddar Fathead Rolls (Keto)
Author
Published On
Total Time
Average Rating
Based on 4 Review(s)
Nutritional Information per serving
Calories                         552Kcal / 2310kJ
Fat                                 48g
Carbohydrates               4.5g
Protein                           24g
Allergens
Almonds
Eggs
Milk
---
---
---

Disclaimer: The nutritional analysis, macro and allergen breakdown of the recipes on this site are meticulously calculated using the cloud-based software NUTRITICS®. NUTRITICS® is fully approved by the relevant Trading Standards organizations and is EU and FDA-compliant. The author, Monya Kilian Palmer is trained in using this superior software in order to provide you accurate data. The author is not a medical professional and this website has been designed only to provide you with recipes to suit the keto lifestyle you have chosen and discussed with your GP. The macros calculations are provided as a courtesy to you based on Monya's weighing of ingredients when creating the dishes. If Erythritol (a sugar polyol) has been used in any of the recipes, it has already been manually excluded from the final carbohydrate count for you.
---
Disclosure: Like many blogs, I am part of the Affiliates Program on Amazon. The links to the products I recommend on this page are affiliate links, meaning - at no additional cost to you - I will earn a commission if you click through and make a purchase.
---