Just because you have given up flour doesn't mean you can't crumb-and-fry food anymore! I simply combined blitzed lean pork crackling with nutritional yeast flakes (<-my new favourite ingredient) and fried as normal. Absolutely incredible flavours and perfect to have on the side of your bunless burger. Leaner crackling is preferred for this recipe, so I used Mr Porky's Crispy Pork Strips – which I have seen available at Tesco and Sainsbury's here in the UK. If you like the idea of crumbing-and-frying this way, check out the Keto Jalapeno Poppers recipe.

– – – – – – – – – – – – per serving – – – – – – – – – – – –
Carbs 5.5g (6%); Fat 31g (76.6%); Protein 16g (17.5%)
– – – – – – – – – – – – – – – – – – – – – – – – – – – – – – –
FOLLOW MONYA, UK Chef & Author of Fats of Life:

Join my Facebook community: Keto Recipes for Foodies
Delicious onion rings coated in coconut flour, then egg and covered in a blitzed lean pork scratchings + nutritional yeast flakes mixture, before deep-frying to perfection. Recipe makes enough for 4 people to share as a snack or side dish. Comes in at 5.5g carbs per serving.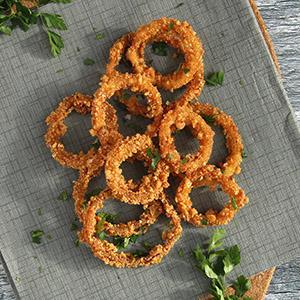 | | |
| --- | --- |
| | |
Using the leanest pork scratchings you can find, (for my UK readers, see the headnote for my preferred scratchings for in this recipe) blitz the scratchings in a mini food processor, then tip out into a wide-bottomed bowl. Stir in the nutritional yeast flakes until well combined.

With the coconut flour in one bowl and the beaten egg in a second bowl, position the bowl with the crackling mixture third in line.

Heat the light olive oil (or melt enough lard) and heat on high. When hot, dip a few onion rings in the coconut flour, then dip into the beaten egg. Once the excess egg has dripped off, roll the onion rings into the pork crumb mixture.

Fry the rings in the hot oil for 2-3 minutes, then remove using a slotted spoon and place on a tray lined with kitchen paper to drain the excess grease. (It's best to work in batches to avoid over-crowding the pan of oil.)

Season with Pink Himalayan Salt and pepper immediately. Continue until all the onion rings have been cooked.

Serve garnished with chopped parsley if you are feeling fancy.

The full macro-breakdown (and allergens) can be found further down this page (keep scrolling), as well as the link to PIN THE RECIPE (for those on Pinterest). There is also a comment facility, so do let me know how you get on...
Since olive oil is somewhat unstable when heated, I do advise you select lard to fry food. It's inexpensive and can be found in the same aisle as butter.
Did you like this recipe? I send a short e-blast on the last day of every month to highlight all the recipes I posted that month. Sign up here to get the recap in your inbox - ensuring you never miss a recipe. (You can unsubscribe at any time).
Photographs and recipes on FATS OF LIFE are copyright © Monya Kilian Palmer. However, these recipes were created for you to enjoy and share, so feel free to share the link of this recipe on your social media channels. If you are on Instagram, find me here. Happy cooking!
DISCLOSURE: Like many blogs, I am part of the Affiliates Program on Amazon. The links to the products I recommend on this page are affiliate links, meaning - at no additional cost to you - I will earn a small commission if you click through and make a purchase.
FOLLOW ME

Join my Facebook community: Keto Recipes for Foodies
Summary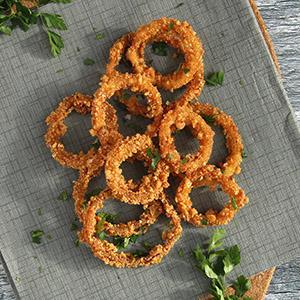 Recipe
Author
Published On
Total Time
Average Rating
Based on 5 Review(s)
Macro Details per serving
6%          Carbs
17.5%     Protein
76.6%     Fat
Nutritional Information per serving
Calories                         363Kcal / 1519kJ
Fat                                 31g
 of which saturates        6.7g
Carbohydrates              5.5g (for my US readers, these are what you refer to as net carbs. See below*)
 of which sugars            3.7g
Fibre                              4.6g
Protein                           16g
*
Note for US readers
:
The recipes on this site show the carbohydrates which should be counted on keto (in this case: it's 5.5g). Here in the UK, our nutritional breakdown information displays a carbohydrate count that has already had the dietary fibre subtracted (and displayed separately) - and it's indicated this way throughout the site. In short, you need not subtract anything further.
Allergens
Eggs
Wheat
(may be found in the pork scratchings)
Soya
(may be found in the pork scratchings)
---
See all the Light Meals / Appetisers
on Fats of Life:
Lemon & Thyme Fried Keto 'Gnocchi' (Nut-free)
Fried Keto Gnocchi (Nut-free)
Cinnamon French Toast (Keto)
Soft White Bread Slices (Keto; Paleo)
Tomato, Mozzarella & Basil Frittata (Keto)

Disclaimer: The nutritional analysis, macro and allergen breakdown of the recipes on this site are meticulously calculated using the cloud-based software NUTRITICS®. NUTRITICS® is fully approved by the relevant Trading Standards organizations and is EU and FDA-compliant. The author, Monya Kilian Palmer is trained in using this superior software in order to provide you accurate data. The author is not a medical professional and this website has been designed only to provide you with recipes to suit the keto lifestyle you have chosen and discussed with your GP. The macros calculations are provided as a courtesy to you based on Monya's weighing of ingredients when creating the dishes. If Erythritol (a sugar polyol) has been used in any of the recipes, it has already been manually excluded from the final carbohydrate count for you.