As you know, this blog is where I play, and if an experiment is good enough to share with you, why not? You may even come up with ideas on how it can be improved! Here, I wanted to make a keto version of 'spaetzle' – and while I know my lovely German friends will turn their nose up at my effort, Funnyman and I happily gobbled it down (and the truth is, I didn't know what else to call this creation!). This is a basic, undressed recipe – so its up to you to get creative on what you want to serve it with. I think its lovely as a side option for 4 people, or possibly 2 if your macros allow for it. I added a little yeast which does a subtle job of flavouring this otherwise flavourless 'base' which needs a lovely saucy something on it! xxxx

– – – – – – PER SERVING – – – – – –
Carbs 3.1g | Fat 13g | Protein 6.1g
– – – – – – – – – – – – – – – – – – – – –

Fats of Life® is a blog that I run as a hobby, but did you know that I am also the author of two cookbooks? My first book Keto Kitchen (published by Kyle Books in 2020) is available worldwide (and has remained one of the best-selling low carb cookbooks in the UK). My second book Lazy Keto Kitchen (coming mid-year, 2021) is currently available to pre-order.
"I want you to achieve the best outcome with all the recipes on Fats of Life. If you haven't already done so, please read the RECIPE SUCCESS page which is packed with handy tips and advice. Happy Cooking, everyone!" – Monya


'Spaetzle'
A lovely experiment that turned out too good not to share. I wasn't sure what to call this, but it closely resembles 'Spaetzle' - so that's what I am going with! This is an undressed recipe which will make a lovely side option for four people who are enjoying a 'saucy dish', because this will mop it all up rather nicely!
Servings
4
as a side dish
Per serving
Calories:
155
kcal
|
Carbohydrates:
3.1
g
|
Protein:
6.1
g
|
Fat:
13
g
Instructions
Pour the tablespoon tepid water into a very small bowl. The water should not be hot, it should be mild. Stir in the inulin. (Inulin is a prebiotic / soluble fibre. Its only 0.4g net carbs per teaspoon. I use it because it does an excellent job of activating the yeast in the absence of traditionally-used sugar).

Sprinkle over the dried active yeast and use the back of a teaspoon to combine. Leave in a warm place for about 10-15 minutes. After 15 minutes, your yeast mixture should be bubbly and foaming on the surface. This is a great sign and it should smell heavenly.

In the meantime, in a separate large bowl, whisk the eggs well and add the cream, almond flour, arrowroot powder and salt, whisking well until you have a smooth mixture. Stir in the yeast mixture too.

Lastly, whisk in the psyllium husk powder which will thicken the mixture, so you may want to switch to a silicon spatula to finish combining the mixture.

Bring a large pan of salted water to the boil and have a colander at hand. Also, have a sieve placed over a bowl ready.

Working in two or three batches, pour some of the mixture into the colander, then tip the colander on its side and use a silicon spatula (or even a pastry scraper) to push the mixture through the colander into the water.

You may need to reduce the water to a simmer to prevent bubbling over. Leave to cook for 2 minutes, being very gentle not to agitate the water too much (its only the eggs holding it together). Use a spider strainer or slotted spoon to remove the 'spaetzle' and place in a sieve to drain well. Repeat the process until all your 'batter' has been made. If the 'spaetzle' looks like it has too many 'bits' on it, simply run hot water over it while it is in the sieve and leave to drain well to prevent a watery end-result.

If you aren't enjoying it immediately, drizzle over a little olive oil to prevent the pieces sticking together.

REMEMBER that this is an undressed recipe and there is only a tiny bit of flavour from the yeast mixture, so it is up to you to get creative with what you will serve on (or with) it! We had it drizzled with melted butter and topped with fried mushrooms and garlic!

 For those on INSTAGRAM, tag me @mkilianpalmer so we can all see your lovely creations! Keep scrolling: you can PIN this recipe for later, see detailed macros and browse other recipes in this category.
You can also drop me a comment if you have any questions about this recipe. I will do my best to reply as quickly as possible. Monya xxx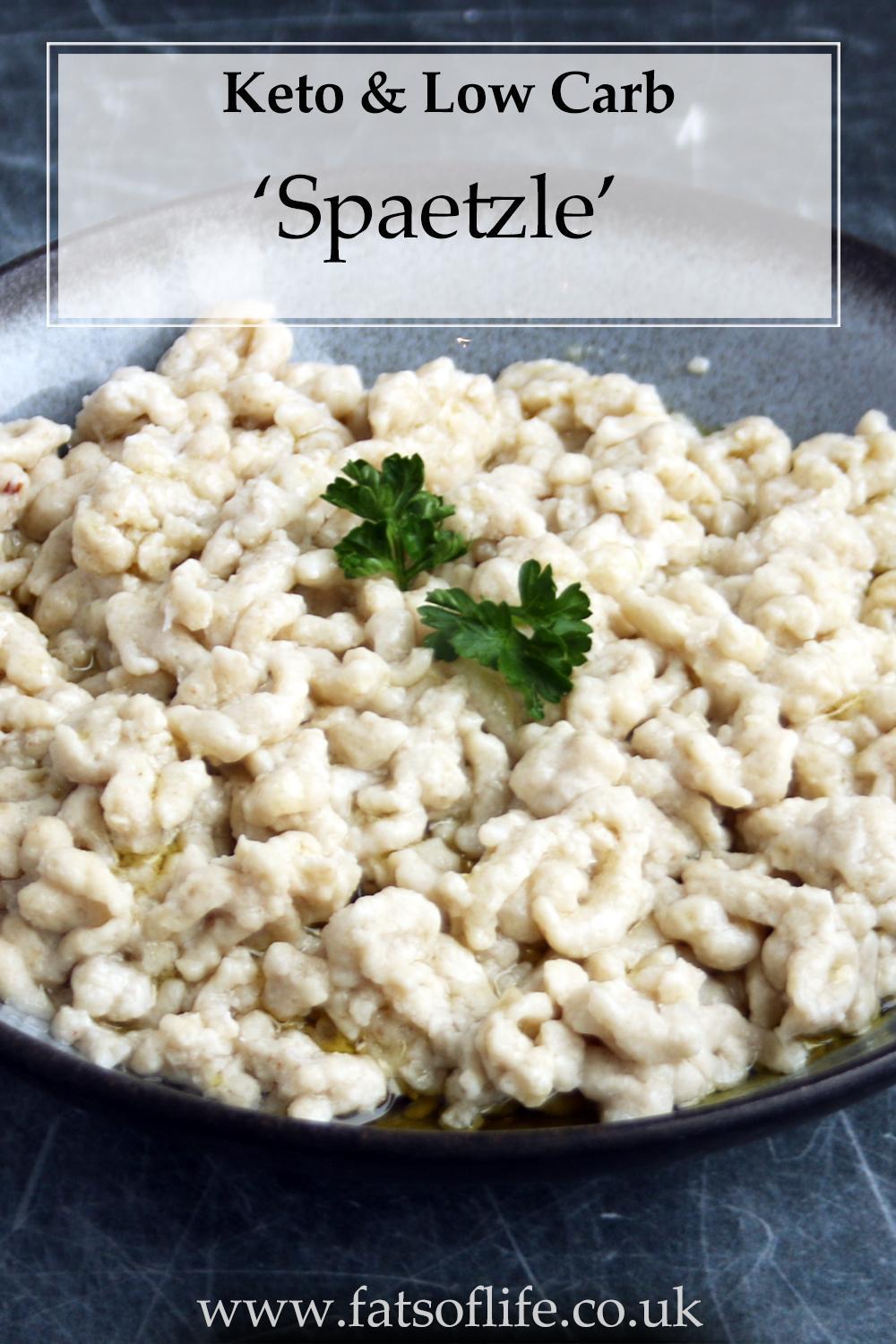 Summary
Recipe
Author
Published On
Total Time
FOR READERS OUTSIDE THE UK
: Missing anything you might need? The links on this website are directed at the UK market and show the products I use here. However, you can get everything you might need from Amazon.
---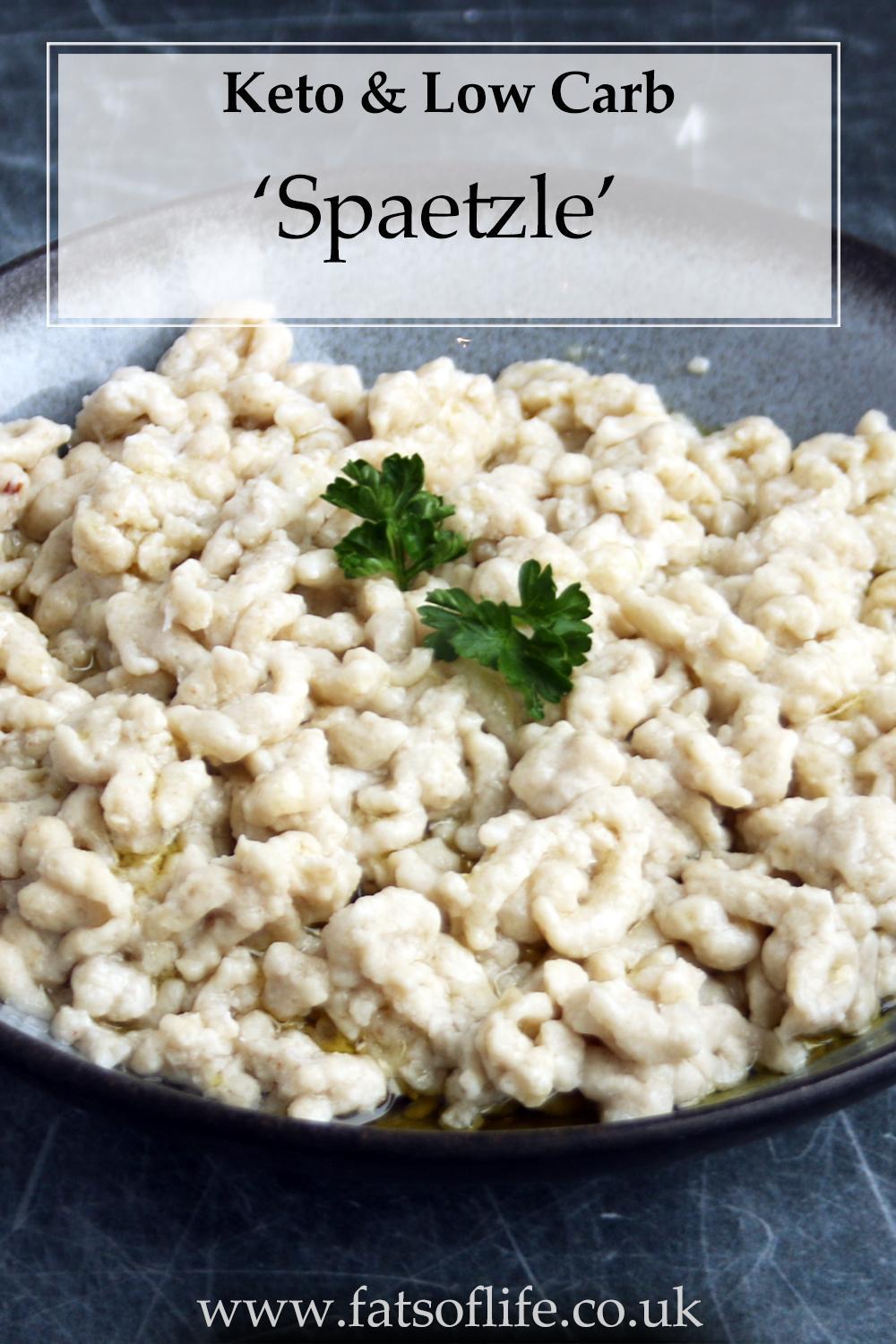 ---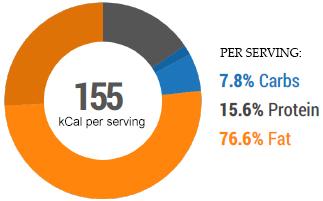 Nutritional Information per serving
Calories 155Kcal / 649kJ
Fat 13g
Carbohydrates 3.1g
Protein 6.1g
Allergens
Eggs
Milk
Almonds
---
---

Disclaimer: The nutritional analysis, macro and allergen breakdown of the recipes on this site have been manually and carefully calculated using the cloud-based software NUTRITICS®. NUTRITICS® is fully approved by the relevant Trading Standards organizations and is EU and FDA-compliant. The macro calculations are provided as a courtesy to you based on the author's weighing of ingredients when creating the dishes. If Erythritol (a sugar polyol) has been used in any of the recipes, it has already been manually excluded from the final carbohydrate count. The author is a chef - not a medical professional - and this website has been designed to provide you with recipe ideas to suit the low carb lifestyle you have discussed with your GP.

Disclosure: Like many blogs, Fats of Life is part of the Affiliates Program on Amazon. The links to the products recommended here are affiliate links, meaning - at no additional cost to you - the author will earn a small commission if you click through and make a purchase.
---