I originally started the development of this chicken and chilli soup to be a chicken version of chili con carne to serve over Cauliflower Rice, Cauliflower Mash or even Konjac 'rice'. But while cooking it, I simply stopped the dish right there and thought, wow – this is a fantastic soup. This lovely dish yields three servings, but if you choose to cook it for more people, simply use the plug-in on the recipe below and increase the yield amount (which will automatically display new ingredient amounts for you).Its important to mention that you should use skinless, de-boned chicken thighs for this recipe. Do not be tempted to use chicken breasts. Thighs are far more succulent and will hold up well with the amount of cooking without drying out and leaving you miserable. If you aren't a fan of soup, scroll down to see how else you can change up the recipe to use as a chunky chicken sauce as I originally intended. Also, if you are cooking for the kids, adjust the amount of chili and cayenne pepper to your liking…

– – – – – – PER SERVING – – – – – –
Carbs 4.3g | Fat 33g | Protein 38g
– – – – – – – – – – – – – – – – – – – – –

Fats of Life® is a blog that I run as a hobby, but did you know that I am also the author of two cookbooks? My first book Keto Kitchen (published by Kyle Books in 2020) is available worldwide (and has remained one of the best-selling low carb cookbooks in the UK). My second book Lazy Keto Kitchen (coming mid-year, 2021) is currently available to pre-order.
"I want you to achieve the best outcome with all the recipes on Fats of Life. If you haven't already done so, please read the RECIPE SUCCESS page which is packed with handy tips and advice. Happy Cooking, everyone!" – Monya


Keto Chicken Chili Soup
A delicious chicken and chili soup with the dynamic flavours of cumin and cayenne pepper. Slurp up as is, or reduce the mixture further and serve as a sauce.
Per serving
Calories:
470
kcal
|
Carbohydrates:
4.3
g
|
Protein:
38
g
|
Fat:
33
g
Ingredients
For the chicken soup
500

g

(

17.6

oz

)

chicken thighs

,

boneless and skinless

2

TB

unflavoured coconut oil,

or lard

1/2

onion

,

peeled and finely chopped

3

cloves garlic

,

peeled and finely sliced

1

red chili

,

finely chopped

1

TB

ground cumin

1/2

TB

cayenne pepper

1

tsp

ground coriander

60

g

(

2.1

oz

)

dry white wine

500

g

(

17.6

oz

)

chicken stock

250

g

(

8.8

oz

)

warm water

50

g

(

1.8

oz

)

sour cream
For the garnish
1

red chili

,

finely sliced

60

g

(

2.1

oz

)

full-fat strong Cheddar cheese

,

grated

generous handful coriander leaves

,

finely chopped

salt and freshly ground black pepper
Instructions
Cut the boneless, skinless chicken thighs into smaller, bite-size chunks. Prep all the remaining ingredients so you have them on hand.

Heat the coconut oil (or lard) in a large, deep-sided non-stick pan and fry the chicken pieces until golden and crispy on the outside before removing using tongs and setting aside. Do this in two batches so as not to overcrowd the pan. Be mindful that the chicken is still uncooked on the inside, so handle appropriately.

NOTE: This step is not to "seal" the meat (because that is a myth). Its merely to enhance the flavour by caramelising the meat on the outside. This is called the Maillard reaction.

Add the onions, garlic and chili to the pan and fry in the oil still remaining in the pan. Add the ground cumin, cayenne pepper and ground coriander and fry lightly for a minute.

Deglaze the pan by adding the white wine. Allow to sizzle and cook out using your spatula to scrape off any bits of chicken that may be stuck on the bottom.

Once all the moisture from the wine has evaporated, then pour in the chicken stock. Bring the mixture to the boil.

Once boiling, add the warm water to the pan, and return the chicken pieces to the mixture. Reduce to a simmer and cook for 15 minutes until the mixture reduces by half. (After this period of 'poaching', your chicken pieces will have cooked through sufficiently).

Add the sour cream and stir in well until it emulsifies into the mixture.

Because we are reducing a mixture, we only season AFTER cooking. So, at this time, taste and adjust the soup with salt and freshly ground black pepper.

Serve the soup garnished with fresh chili slices, grated Cheddar and plenty of chopped coriander.


VARIATION: If you choose not to enjoy this dish as a soup, simply omit the addition of the water in step 7 and allow the mixture to reduce to a thicker sauce as opposed to a soup. You can enjoy it over Cauliflower Rice,  Cauliflower Mash or Konjac Rice.


A new-and-improved version of this delicious recipe features in my cookbook LAZY KETO KITCHEN.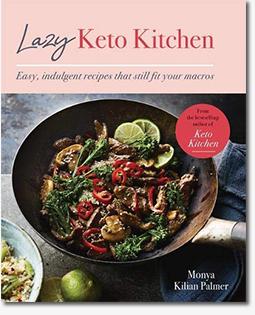 For those on INSTAGRAM, tag me @mkilianpalmer so we can all see your lovely creations! Keep scrolling: you can PIN this recipe for later, see detailed macros and browse other recipes in this category.
You can also drop me a comment if you have any questions about this recipe. I will do my best to reply as quickly as possible. Monya xxx


Summary
Recipe
Author
Published On
Total Time
Average Rating
Based on 5 Review(s)
FOR READERS OUTSIDE THE UK
: Missing anything you might need? The links on this website are directed at the UK market and show the products I use here. However, you can get everything you might need from Amazon.
---

---
Nutritional Information per serving
Calories                         470Kcal / 1966kJ
Fat                                 33g
Carbohydrates               4.3g
Protein                           38g
Allergens
Milk
Sulphites
Eggs
(may be found in some brands of sour cream - check label)
---
---

Disclaimer: The nutritional analysis, macro and allergen breakdown of the recipes on this site have been manually and carefully calculated using the cloud-based software NUTRITICS®. NUTRITICS® is fully approved by the relevant Trading Standards organizations and is EU and FDA-compliant. The macro calculations are provided as a courtesy to you based on the author's weighing of ingredients when creating the dishes. If Erythritol (a sugar polyol) has been used in any of the recipes, it has already been manually excluded from the final carbohydrate count. The author is a chef - not a medical professional - and this website has been designed to provide you with recipe ideas to suit the low carb lifestyle you have discussed with your GP.

Disclosure: Like many blogs, Fats of Life is part of the Affiliates Program on Amazon. The links to the products recommended here are affiliate links, meaning - at no additional cost to you - the author will earn a small commission if you click through and make a purchase.
---